Cloud Based Cemetery Records Management
The most affordable and efficient records management & mapping system in the cemetery industry. After computerizing records for several cemeteries since 1992, Bosscan created: CemeteryFind.com in 2007. A cloud base solution that gives you the freedom to make updates and add create new records and updates from any computer or smartphone, anytime, anywhere. Using a secure password account, allows any cemetery employee or board member to add new burials and lot sales as well as edit older (scanned) paper records and computer files. Mapping can be linked to all burials by scanning and converting your paper maps.
Free public search of your cemetery's burials
search and view only what you allow the public to. We have built a system that will allow authorized account users to allow (or not) the public, access to view burials. See our web based cemetery records management system here at our CemeteryFind.com site.
Click on this video below to watch an overview of CemeteryFind and its many features:
Here are just a few of the features you will find:
Easy to use
Affordable
Search, update or add interments and lot sales
Display, update, and print original scanned records
Lot owners and burials linked to cemetery map
Secured password account that allows access 24/7 from any web-enabled device
Public search available for only what you want displayed
Backups done for you
Public Search Page: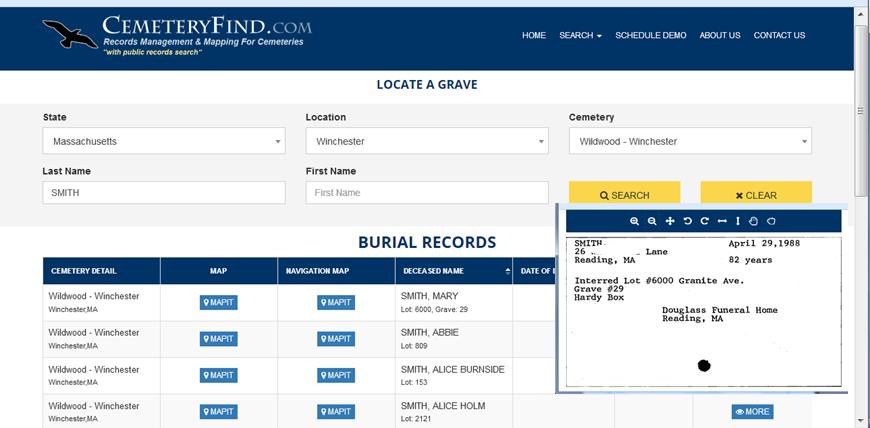 Visitors can now have the ability to search cemetery burials and see as much, or as little, information as you choose. This feature can help a cemetery manager or administrator during busy times, or during after-hours when someone may need help locating a burial. Utilizing the Cemeteryfind "spelling assist drop-down search list" for burial names, someone can start typing in a last name (example: "SM") and see all of the similar results (example: "SMiley", "SMith", "SMyth", "SMytt").
Give yourself and your staff the help your office is missing. Contact us today for a free demonstration.